The Harp and Dragon Home Page

Irish Musical Instruments; Practice Pipes,
Bagpipe Accessories; Celtic Jewelry and Gifts; Harps and Harp Items; Welsh Crafts and Souvenirs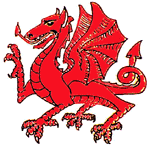 You are welcome! Croeso! Cead mile failte!
* * * Personal service is our specialty * * *

Celtic crosses. The ancient Celtic cross is a time-honored sign of Christian faith.

Celtic jewelry of all kinds for the Irish, Scots and Welsh: crosses, harps, shamrocks and claddagh, thistles, dragons, kilt pins, penannular brooches, barrettes, bracelets, pewter neck torcs in ancient designs.
Lapel pins: Irish, Scottish, Welsh, Harp, other musical instruments.
Welsh train pins, British doubledecker bus pins, classic/antique car pins.
Irish Musical Instruments

Tony Dixon soprano (penny) whistles (of hi D, hi Eb, hi E
Waltons penny whistles (hi D)
Tony Dixon alto whistles (Hi C, alto Bb, alto A, alto G)





Tony Dixon Low whistles (low D, low E, low Eb, low C


Tony Dixon Irish flutes, Roosebeck wooden flute, Tony Dixon alto flutes and piccolos (hi, alto and low keys)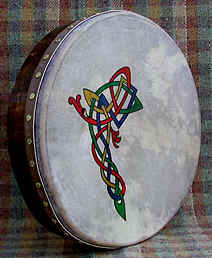 Bodhran pages: bodhrans (Irish drums), beaters, cases


Playing manuals for Irish instruments, tunebooks, DVD instruction.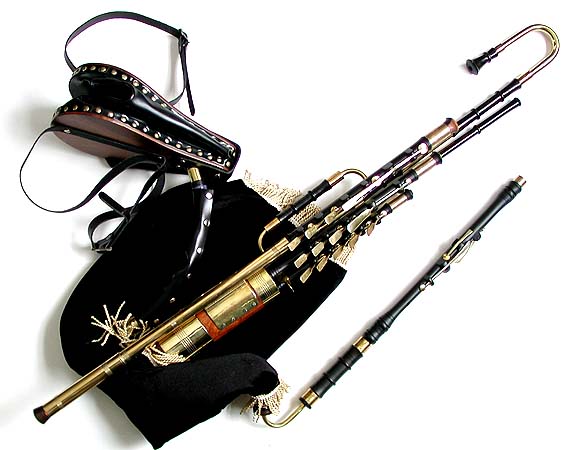 Uilleann (Irish) pipes and accessories
We have starter sets, drones and regulators in stock.
At left we show a complete set of uilleann pipes.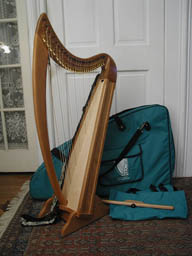 Harps: This link leads to our main harps page, from where there are links to our other pages of harp items.
Sale! Welsh harp music and books; Irish and Scottish harp music; Sacred, Christmas, Classical Harp music
Harp jewelry and Harp novelties
Sale!: kinnor ( patterned after a Biblical instrument).
Sale! Early psaltery bows, hammered dulcimer tutor book.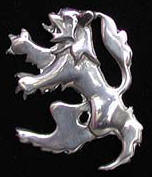 Scottish items: Traditional Scottish quaich, Scottish Lion and St. Andrews flags, more!
Scottish Jewelry etc: thistle and bagpipe jewelry, traditional luckenbooth pin, Heather Gems, grouse claw pins, large shoulder brooches, Scottish buttons for vests, etc.
See also our selection of kiltpins.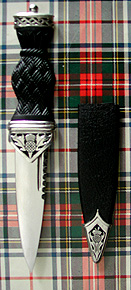 Sgians dubh, selection of styles including horn handles and Damascus blade, made in Scotland.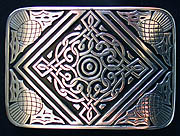 Sale! Scottish buckles, kilt style.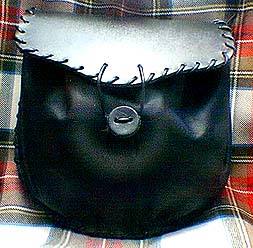 Early-style sporran.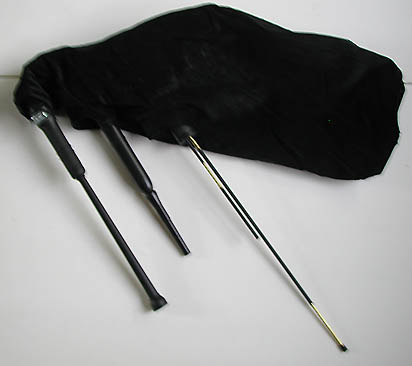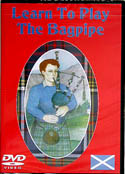 Piping music and instruction manuals
Reeds, carrying cases, bagpipe accessories
Our main bagpipes page: click here for the list of our bagpipe-related links.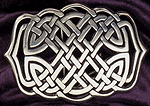 Sale! Celtic belt buckles, dress and kilt styles. We show one of these at left.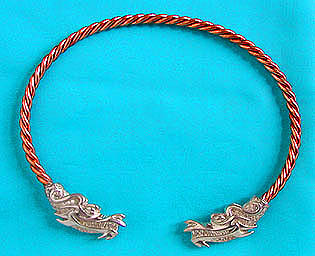 Sale! Dragon neck torc.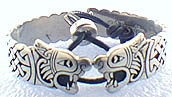 Sale! Dragonhead bracelets sized for men and women (shown at left). See all our other Celtic bracelets, on sale.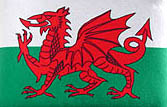 Welsh pages of gifts, crafts, souvenirs; lovespoons, music recordings, hand puppets, dolls... Also flags, dragon mousepads, toys, ties, much more... Dragon pocket watch.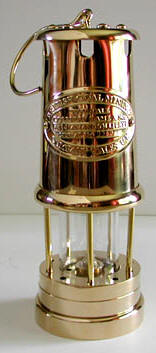 Sale! Welsh books: language courses, mythology, history, cookbooks, Welsh genealogy, songbooks, etc, some used books. We have marked down all of our Welsh books and are selling them off.
A collection of gorgeous, romantic melodies from the ancient Celtic nations of Ireland, Scotland and Wales played on the piano by Michael J Lewis, accompanied by the Los Angeles Ensemble.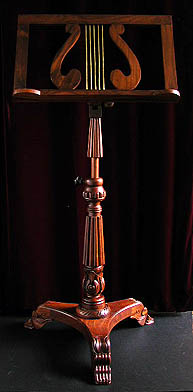 Rosewood music stands. Very nice, affordable price, solid. Several styles including double stands.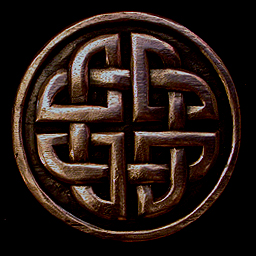 Celtic gifts: For all the Celts. Mini harps, cross and Celtic knot wall plaques, letter openers, and other things. See the beautiful Celtic cross plaque at left on this page.
Irish gifts and crafts. Attractive posters, mini harps, mini bodhran, Irish flags, brass doorknockers and other brass items, hand puppets, more.


Celtic and musical rubber stamps.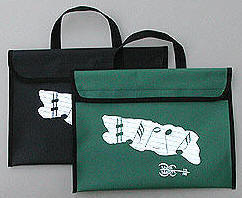 Accessory for musicians: nylon carrying case, made in Scotland, sized for your music etc.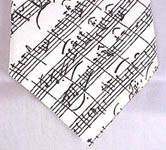 Silk Mozart manuscript ties and cummerbunds, great gifts for musicians!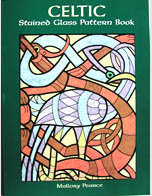 Sale! Celtic design books of stencils, iron-on Celtic designs, coloring books, etc.
We have been in business for 35 years
We stock all goods and ship at once.
We normally reply to all email messages and orders sent to us within 24 hours, at least on week days. If you do not hear from us in that time, please call us in case an email message to or from us did not get through (some get lost because of spamkillers, or for other unknown reasons).
Please include your last name on all email messages to us, as we file all correspondence under last names in alphabetical order. Our email address does not appear on our web site, in an attempt to prevent spammers from getting their hands on it.
* * *
We regret, we do not have printed catalogues.
We sell by mail order but do not have a walk-in store; please call ahead if you wish to drop by.
Directions to find us, information on how and where we do business.
Who are the Celts? Read about these interesting peoples.