Fullsize Highland Pipes
by Bagpipes Galore! of Scotland
These are the perfect pipes for anyone looking for a first set. They have everything that you could desire!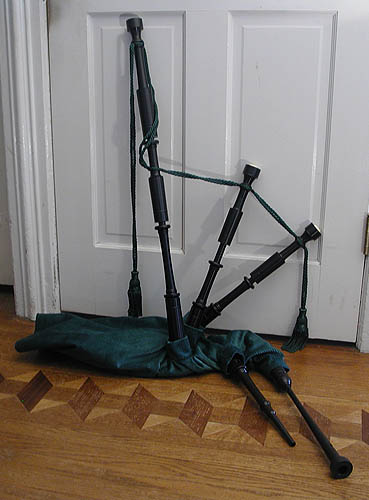 Because they are made of all synthetic materials, you don't ever have to seal the bag. The reeds and blowpipe valve are synthetic plastic as well, so that these pipes will play readily, no fussing with reeds or valve. The blowpipe, chanter and drones are all made of high-density (Polypenco) plastic, and will not crack. Green corduroy bag cover and green cords, as shown. They come in a lightweight nylon fabric carrying bag and can be hand carried or slung over your shoulder. Weight of pipes in bag: just under 6 lb. Price: $565.
From left to right we show close-ups of:
Blowpipe valve
Tenor drone reed
Bass drone reed
Chanter reed (although it looks similar to a practice chanter reed, it is a bagpipe chanter reed)

These pipes look like this when packed in the carrying bag.
For links to playing manuals, music, hard case, reeds, bagpipe accessories
etc, go here

You are on the Highland Bagpipes page of the web site of The Harp and Dragon at www.harpanddragon.com
There are over a hundred pages on this web site; click on the Home Page link
at left to see an outline of this entire site.
If you do not receive a reply from us within a day or so after sending in an order, or after emailing a question, please contact us again, as our reply may have been thrown in your spam bin or may have returned to us. Exceptions: weekends or when we note on our front page that we are closed for any reason.