Low (Tenor) Whistles (Key of D)
Playing Books and Video for Irish Musical Instruments
Tony Dixon Low D Polymer One-piece Whistle


TDLW1. One-piece low/tenor whistle in new tapered-bore style in key of D (shown at left). 22 3/4" long. Black polymer. $62
Tony Dixon Low D Polymer Tunable Whistle

TDLW2. Two-piece (tunable) low/tenor whistle in key of D, tapered bore. Overall length is 22 3/4", head only is 6 1/8". Black polymer. $98
Tony Dixon Low D Polymer Whistle/Flute Duo
TDLW3. Tapered-bore D whistle/flute set. This is a combination set of polymer flute and whistle in key of D. You get three pieces: a main body piece with six holes, a flute head and a whistle head as well (see below for pictures of the separate heads and bodies). The flute and whistle heads are interchangeable, which means that you get both a flute and a tenor whistle in this set. $120.
Separate Pieces for Polymer Whistle and Flute
Separate pieces: Individual pieces of the above Tony Dixon instruments can be bought separately (e.g., if you bought a whistle and want to add the flute head). All black polymer low D Tony Dixon pieces fit each other at any given time. Over the years, Dixon has made some minor design changes, and it is possible that the current pieces may not fit or be in tune with older ones. We check with you on this if you order additional pieces for the instrument you have.

TDWH. Revoiced whistle head. $50


TDFH. Flute head. $41

TDBD. Tapered-bore low D body. $54

Tony Dixon Aluminum Low D Whistle

TDLW5. This is the tunable low D whistle with aluminum body and polymer head. Overall length of whistle is 22 3/4". Head is 6 1/8". Outer diameter of body is 1". $125
Tony Dixon Aluminum Low D Whistle/Flute Duo
TDLW6. Low D tunable aluminum set. Three pieces -- aluminum body plus both whistle and flute polymer heads. You effectively get both a whistle and a flute. Tunable, of course. $155
Tony Dixon Solid Polymer Low D Whistle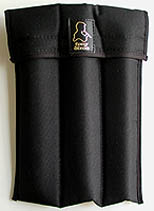 TDLW10A: The Tony Dixon solid black polymer whistle, key of D. This is a fine, three-piece whistle that is carved from solid blocks of black polymer. It is heavy in weight, with a conical bore, and bears no resemblance to the inexpensive polymer ones above. Cork joints. This whistle has a nice, heavy feel to it; professional musicians have found this whistle to be especially useful for performing under difficult weather conditions. About 23 1/2" long. Comes in a black cloth case, shown at left. $199.
Tony Dixon Solid Polymer Four-Piece Whistle/Flute Combo

TDLW10B. Four-piece D combo: whistle head, flute head, and two-piece body. This is the same whistle as the TDL10 above, plus a flute head made of the same material. You get both a very good low whistle and flute out of this. $250.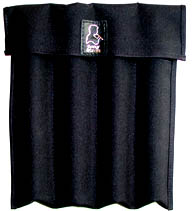 The four-piece combo comes in a four-section cloth case shown at left.

TDLW10C. Whistle head only. For those who bought the solid polymer flute but would now like the whistle head. $57

TDLW10D. Flute head only. For those who bought the solid polymer whistle but would now like the whistle head. $57
Case for Low and Alto Whistles
These also fit Irish flutes.
LW3. This padded case will hold both a low D whistle, and a penny whistle or a flute head. We show it below folded over (the penny whistle or flute head goes in the short section); a piece of velcro holds this folded part in place. When opened up completely, the whole thing is 38" long overall. $15

For other cases that fit low whistles, see our page of practice chanter cases.
Back to the main Irish Musical Instruments page
You are on the Low Whistles page of the web site www.harpanddragon.com
There are over a hundred pages on this web site; click on the Back to Home Page link
to see an outline of this entire site.
Notice:
The Harp and Dragon business is for sale.
We invite inquiries about buying up our inventory.
Please click here to inquire.
We will remain in business for the foreseeable future until we announce otherwise.
If you do not receive a reply from us within a day or so after sending in an order, or after emailing a question, please contact us again, as our reply may have been thrown in your spam bin or may have returned to us. Exceptions: weekends or when we note on our front page that we are closed for any reason.