Bodhrans by Malachy Kearns
(Roundstone Musical Instruments)
Made in Connemara, Ireland, these bodhrans are lovingly hand made by master craftsmen. Each has the look of an individually made instrument, not mass produced. When you hold one of these in your hand, you feel as if you are right in Ireland! The skins on these bodhrans may be mottled, as they are real animal skin.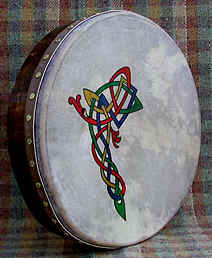 MK2. Beautiful hand-painted Celtic design as shown, 18" diameter, tacked goatskin head, tacked wood strip. Rim is stained in dark brown with antiqued black wash; rim depth is 3 3/4". Cross bars inside. Included is a beater (tipper) and small booklet called "Secrets of the Bodhran and How to Play It." We regret that we are out of this bodhran. We are unable to say whether we will have more of these in the future or not.
We specially order this bodhran with the design offset from the center. This is because you are supposed to play always in the same quarter of the skin (Tommy Hayes says so in his video, and he knows everything!). That way, you don't play on the design because you play in the blank area.
Back to Main Irish Musical Instruments page

You are currently on the Malachy Kearns/Paul McAuley Bodhrans page of the web site www.harpanddragon.com

If you do not receive a reply from us within a day or so after sending in an order, or after emailing a question, please contact us again, as our reply may have been thrown in your spam bin or may have returned to us. Exceptions: weekends or when we note on our front page that we are closed for any reason.