Irish Bodhrans by Waltons of Ireland
These bodhrans have a single bar on the back, and a leather strip around the outside at the edge, under the tacks. The skin (also called the head) is goatskin. A knob beater (also called a tipper) comes with each. The wood rim is 3 5/8" deep on the 18" bodhrans.
The skins on these bodhrans may be mottled, as they are real animal skin.
Click here for bodhran carrying cases.

At left we show the bodhran tipper (beater) that comes with our Waltons bodhrans.
Sale!
Traditional Irish 18"Bodhran Boxed Set from Waltons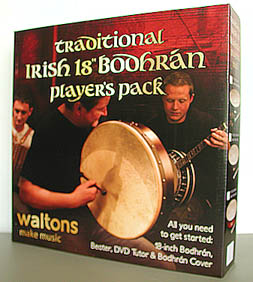 This attractive boxed set contains everything for the beginning bodhran player: bodhran (tacked head), beater (tipper), DVD tutor and zippered black nylon carrying case. The CD by Connor Long contains an introduction to playing and caring for your bodhran: holding the bodhran, holding the stick, basic strokes, getting the best sound from your bodhran, basic 4/4 reel, basic 6/8 jig, basic hornpipe, bodhran care and maintenance, and exercises to allow for the most effective practice sessions. What a nice gift for the aspiring bodhran player!
WB1. Boxed set containing plain 18" bodhran with dark brown rim, standard 3 1/2" depth. The bodhran looks like the WB3A below (except that the brown is dark), and has a single bar on the back. Was $75, on sale at $55. We have two of these sets left.


18" and 16" Plain Bodhrans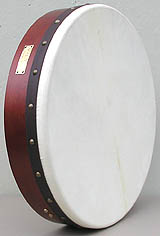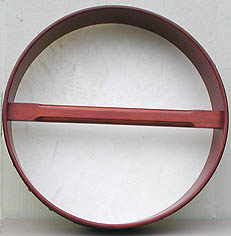 WB3A. Tacked plain 18" goatskin bodhran. Single bar on the back, standard 3 1/2" rim depth. Knob beater (tipper) included. Here in the U.S., this is the standard bodhran size, seen most often. Medium reddish brown color (shown at left). Was $55, now $45.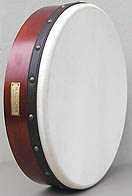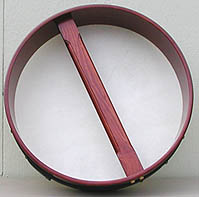 WB3B. Tacked plain 16" goatskin bodhran, reddish brown as shown. Single bar on the back, standard 3 1/2" rim depth. Beater included. This size has become very popular, both here and in Ireland. Was $54, now $44. We have one of these left.
Back to Irish Musical Instruments page

You are currently on the Bodhrans by Waltons page of the web site www.harpanddragon.com
There are about a hundred pages on this web site; click on the Home Page link
at left to see an outline of this entire site.
Notice:
The Harp and Dragon business is for sale.
We invite inquiries about buying up our inventory.
Please click here to inquire.
We will remain in business for the foreseeable future until we announce otherwise.
If you do not receive a reply from us within a day or so after sending in an order, or after emailing a question, please contact us again, as our reply may have been thrown in your spam bin or may have returned to us. Exceptions: weekends or when we note on our front page that we are closed for any reason.