Sale! Celtic Dragonhead Neck Torc
The ancient Celts, both men and women, wore neck torcs a lot, as we can attest from archeological excavations. Historically, the neck torc was worn as a collar, and fitted around the neck fairly closely.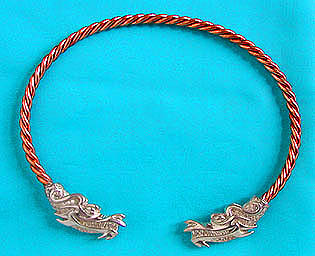 T2. Dragonhead copper neck torc, with polished pewter dragonhead finials. About 17" around from nose to nose (inside measurement); however, as shown, this torc will probably be worn with the dragonheads some distance apart, which makes it effectively larger. Comes in a nice box with fabric lining. Was $71, now $57. We have just one of these left.
Please check the size of this piece carefully against a ruler before ordering. We give measurements of all jewelry pieces on this site so that you will know their size in advance; this will save disappointment, returning pieces, etc.

You are on the Celtic Neck Torcs page of the web site www.harpanddragon.com
There are over a hundred pages on this web site; click on the Home Page link
at left to see an outline of this entire site.
If you do not receive a reply from us within a day or so after sending in an order, or after emailing a question, please contact us again, as our reply may have been thrown in your spam bin or may have returned to us. Exceptions: weekends or when we note on our front page that we are closed for any reason.