Uilleann Bagpipes

If you are a beginner, click here for information on these pipes
Our uilleann pipes are Roosebeck brand (made by Mid-East, now EnSoul). They are well made, from brass, leather, ebony, and rosewood materials. We recommend them for beginners who want a decent instrument that is readily available at a good price.
Because uilleann pipes are so different than other instruments, and are complicated, we do not usually have them drop shipped to you directly from our supplier. Before shipping to you, we check over these pipes for flaws, we make sure that all parts fit, and we make sure that the various valves do not leak.
Uilleann Chanter With Mouth Blowing Attachment

UIL1. Rosewood uilleann practice chanter. This consists of a regular rosewood uilleann chanter plus additional rosewood/plastic tube that attaches for mouth blowing. If you buy the starter set UL2 below, you remove the rosewood/tubing piece when you put this chanter onto the starter set. The overall length of the actual chanter piece is 14 3/4", the same length as the ebony chanter below. The extra piece that attaches for blowing, including rubber tube, is an additional 14 1/2" long. Comes with plastic reed. This rosewood chanter is lighter in weight than the ebony chanter below. $72. In stock.



Ebony Uilleann Chanter With Brass Keys

UIL1B. Ebony uilleann chanter with three keys. This does not operate as a chanter on its own; it works only when attached to the uilleann starter set UL2. 14 1/2" long overall. Comes with plastic reed. Our price $250. In stock.
Uilleann Starter Set Without Chanter: Now Available Again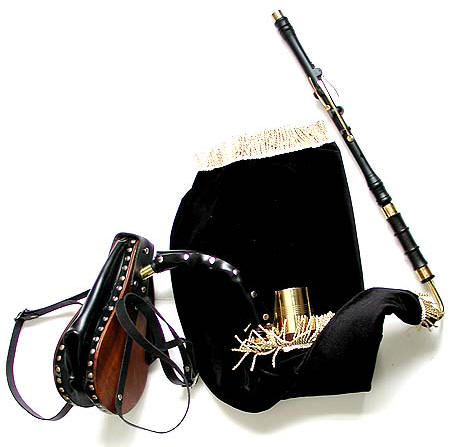 UIL2. Uilleann starter set has heavy-duty synthetic bag and wood/synthetic bellows. Includes a built-in brass-and-rosewood cup for attaching drones later on (there is a plug in the cup to prevent air from escaping). Price: $335
This set is available by order. Check with us for availability.
The chanter is not included with this starter set; to play it, you need to add one of the chanters UL1A or UL1B listed above.
This uilleann starter set is shown at left with the ebony practice chanter.
Full Uilleann Set
Notice: We are not able to get full sets of uilleann as our supplier has discontinued these. We show here what a full uilleann set looks like.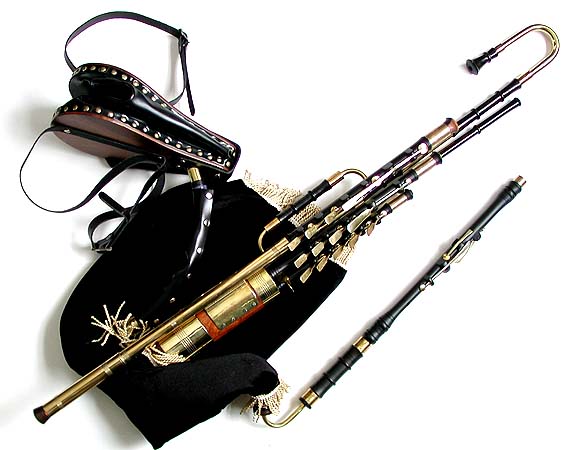 A full set of uilleann consists of:
1. Chanter (UIL1A or UIL1B): both available
2. Starter set (UIL2): available
3. Drones and valve: NA
4. Regulators:NA
Shown at left with the ebony chanter.
Uilleann Reeds
for uilleann chanter, uilleann drones and uilleann regulators

UIL30A. Uilleann chanter reed (plastic). Thread wound. Length: 2". By Roosebeck. $7 Currently NA.


UIL30B. The plastic uilleann chanter reed from Bagpipes Galore! Our new ones are three-colored as shown at left. We recommend that all buyers of uilleann pipes get this fine Scottish-made reed. Length: 3". $32
Drone and regulator reeds by Roosebeck (Mid-East):
UIL30B. Bass drone reed (cane): $5
UIL30C. Tenor drone reed (cane): $5
UIL30D. Baritone drone reed (cane): $5
UIL30E. Regulator reed (plastic): $5 All three regulators take this reed.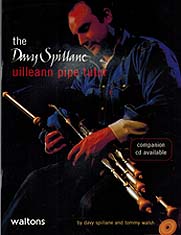 The Davy Spillane uilleann pipe manual.
IM70. The Davy Spillane Uilleann Pipe Tutor by Davy Spillane. This book, by Ireland's best-known and most innovative uilleann pipe player, is designed for complete beginners on this ancient instrument. Fingering chart, parts of the pipes, how to hold the pipe, reeds, notation, hints on playing, history, and 42 tunes to play (these tunes have great Irish names!). Size 8 1/4 x 11 3/4", 48pp. $18
Back to main Bagpipes page.
Back to the main Irish Musical Instruments page
You are on the Uilleann Bagpipes page of the web site www.harpanddragon.com .
There are over a hundred pages on this web site; click on the Back to Home Page link
below to see an outline of this entire site.
Notice:
The Harp and Dragon business is for sale.
We invite inquiries about buying up our inventory.
Please click here to inquire.
We will remain in business for the foreseeable future until we announce otherwise.
If you do not receive a reply from us within a day or so after sending in an order, or after emailing a question, please contact us again, as our reply may have been thrown in your spam bin or may have returned to us. Exceptions: weekends or when we note on our front page that we are closed for any reason.