Harp, Scottish, Welsh, and Other Celtic Music CD's
Sale!
Add these to your music collection while our supplies last!
Harp Music: the National Instrument of the Celts
CD09. Dance. Music played on pedal harp by Agnes Clement of France. Fourteen pieces by Parish-Alvars, Maganuco, Khatchaturian, Rameau, Debussy, Falla, Renie, and Brahms. If you thought the harp was only good for playing dreamy music, you should hear this! Special price of only $10.
CD10. Gryphon Moon: Tapestry of Dreams. Harp and violin. Celtic music played on the small harp by Trudy Moon and violin by Melissa "Gryphon" Ginsberg. Brian Boru, Butterfly's Crossing, Dublin Jack, Faery Set, Flowers of Edinburgh/Reels, Bonnie Peggy Ramsey, Glenlivit, Bagpipe Suite, Young Emily, Reels, My Little Welsh Home, Mingulay Boat Song, Merrily Morrison's Mallow, Auld Lang Syne, Newlywed's Set, Band of Shearers, Rippling Echoes, Reel, Robin in the Greenwood, The Rowan Tree, The Shoemaker, Skye Boat Song. Was $15, now $12.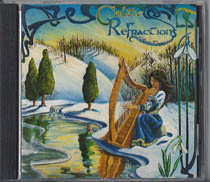 CD11. Celtic Refractions. Played on the small harp by Ellen Tepper. Carolyn's Concerto, Give Me Your Hand, Lament, The Road to Lisdoonvarna, Miss Hamilton, Lament for Margaret Burke, Drive Cold Winder Away, Till I be Lullid Beyond Thee, Carolan's Farewell to Music, Loftus Jones, Irish Lamentations, Sheebeg and Sheemore, False Love, St Margaret's Hill, Morgan Magan, Lament for Margaret Burke, Midwinter Blossom, The Parting Glass. Was $17, now $13.
Click here to hear samples from this recording.
CD12. Limberlost Angel. Mostly Celtic tunes (traditional and contemporary) played on the small harp by Cynthia Shelhart. Brose and Butter/Lady Margaret Stewart, Off and Running, Limberlost Angel, Campbell's Farewell to Redcastle/A. A. Cameron's Strathspey, Children's Song, Ladies on the Links, Molly's Return, Con Cassidy's/The Dusty Miller, The Jos Mill Tune/Maggie O'Ham, Walnut Welcome, Jamaica/Nonsuch, Farewell to Nigg, Little Martha, Swingtime. Total playing time: 47 min. Was $15, now $12.
CD25. Waltzes with Harps. A collection of 18 Celtic tunes played by Ellen Tepper on both lever and pedal harps, with John Burkhalter on the recorder in some of the pieces. Was $17, now $13.
Bagpipe Music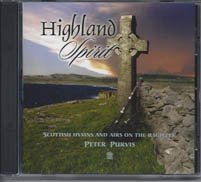 CD16. Highland Spirit: Scottish Hymns and Airs on the Bagpipes played by Peter Purvis, bagpiper from the group, Gaelic Storm. The Water is Wide, Nearer My God to Thee, Amazing Grace, Flowers of the Forest, Suo Gan (Welsh Lullaby), Abide With Me, Skye Boat Song, Going home, Mist-Covered Mountains, Road to the Isles, The Last Rose of Summer, Flower of Scotland. Was $17, now $13.
Click here to listen to parts of Mist Covered Mountains and Skye Boat Song.
Celtic Ensemble
CD07A. Knotwork: Traditional songs of love lost, death and betrayal. Vocals, Celtic harp, violin, guitars, mandolin, whistle & synthesizer. Performed by the Separate Reality Band "not just another neo-Celtic folk rock fusion band. $15. Now $10. We have one left.
Celtic Piano Music with Orchestra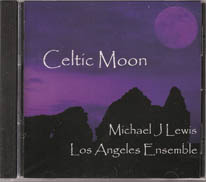 CD04. Celtic Moon. A collection of gorgeous, romantic melodies from the ancient Celtic nations of Ireland, Scotland and Wales played on the piano by Michael J Lewis, accompanied by the Los Angeles Ensemble (violins, viola, cellos, bass, harp, French horn, trombone, percussion). The pieces are: Londonderry Air (Danny Boy), Loch Lomond, Bugeilio'r Gwenith Gwyn, A Welsh Waltz, Emily, Cockles and Mussels, Ye Banks and Braes, Fantasia on Bryn Calfaria, Jessica, True Love. 62 minutes of music. Was $16, now $12.
Click on this link to hear some of the Londonderry Air (Danny Boy)
Romantic Piano Music
CD30. Piano Moon. A romantic collection of great melodies from film and the world. Moon River, Love Theme, Moonlight Sonata slow movement, Kazakh Moon, Clair de Lune, The Lion, the Witch and the Wardrobe Theme, Blue Moon, Tra Bo dau, Amazing Grace, All Through the Night. Performed by Michael J. Lewis and Bryan Pezzone. $10. We have one of these.
We have a few Welsh cassettes selling at $5 each. See our page of sale cassettes.
(For those who can make a CD from a cassette.)

You are on the recordings and videos page of the web site www.harpanddragon.com
There are about a hundred pages on this web site; click on the Home Page link
at left to see an outline of this entire site.
Notice:
The Harp and Dragon business is for sale.
We invite inquiries about buying up our inventory.
Please click here to inquire.
We will remain in business for the foreseeable future until we announce otherwise.
If you do not receive a reply from us within a day or so after sending in an order, or after emailing a question, please contact us again, as our reply may have been thrown in your spam bin or may have returned to us. Exceptions: weekends or when we note on our front page that we are closed for any reason.