The Roosebeck Line of Rosewood Celtic Harps
(The Roosebeck Brand is manufactured in Pakistan by the American firm, Mid-East )
These budget harps work well for getting started at a price you can afford.
There are several sizes. Please note that the smaller the harp, the fewer strings there are. When you play, the most significant factor is how low the bass strings go, as this will limit the music range of the pieces you play.
We offer these harps at a good price. They are drop shipped from our supplier.
Meghan Model Harp
This is the largest harp of the Roosebeck range.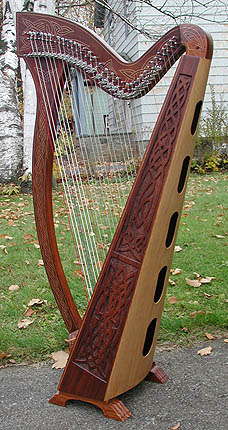 The model with Celtic interweave knotwork design carved on the two sides of the soundbox, is shown at left. It is available with a vine design, and also plain. This budget-priced harp, made of rosewood, is nice looking, and will serve its owner well. String spacing is standard, and tension is fairly good. Considering the price, the sound is surprisingly good; this harp has American DuPont nylon strings.
Specifications:
36 strings, 5 octaves
Playing range: lowest note is two octaves below middle C, and highest note is three octaves above middle C
Levers on all strings (except for top five strings)
51" high
26 lb.
Price (all three models): $1300. Includes extra set of strings and tuning key. (This harp lists at $1599.)
Carrying case (not included with harp): $110. (This case lists at $129.) See below for photo and description of case.
Minstrel Model Harp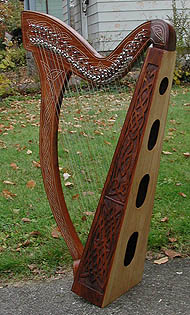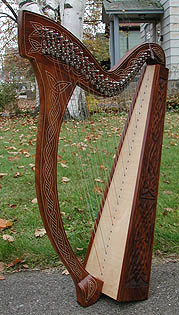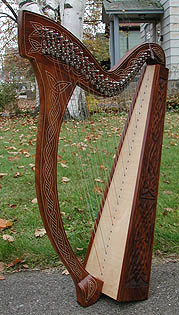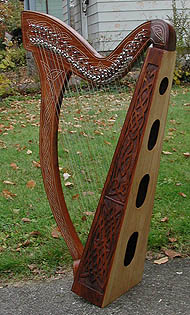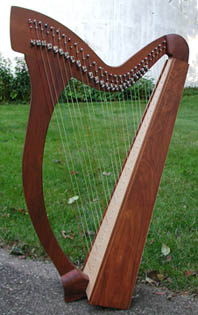 Heather Model Harp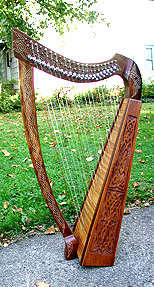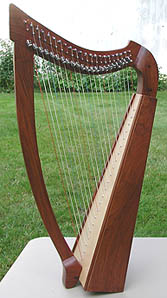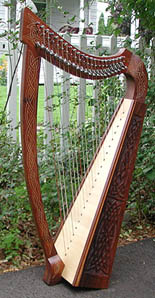 Meghan, Minstrel and Heather Cases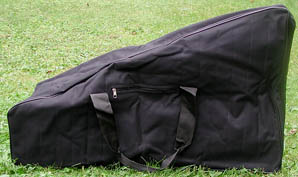 These are made of black material that is tough and water resistant.
Case for Heather model: $60, free shipping to 48 states.
Case for Minstrel model: $67, free shipping to 48 states.
Black Meghan nylon quilted carrying case $110
Notice:
The Harp and Dragon business is for sale.
We invite inquiries about buying up our inventory.
Please click here to inquire.
We will remain in business for the foreseeable future until we announce otherwise.

You are on the Meghan Harp For Sale page of the web site www.harpanddragon.com .
There are over a hundred pages on this web site; click on the Home Page link
at left to see an outline of this entire site.
If you do not receive a reply from us within a day or so after sending in an order, or after emailing a question, please contact us again, as our reply may have been thrown in your spam bin or may have returned to us. Exceptions: weekends or when we note on our front page that we are closed for any reason.