Welsh Dolls
These Welsh-costume dolls are a microcosm of history, in a way. They tell us a lot about what kind of clothes were worn in the past.
In Wales, the common people's clothes were much the same as those of the peasants of England, except that the fabrics they used were those that were locally produced. This costume survived longer in Wales, however; also, because people lived more isolated than today, the various localities developed their own variations.
Please check the given height of each doll, as the pictures on this page are not in proportion to the various sizes of the dolls.
Welsh rag dolls for children are on the children's page.
Porcelain Traditional Welsh Dolls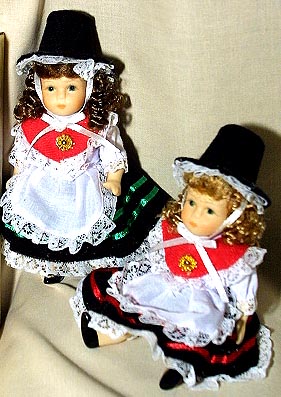 At left we show the Nesta doll, named after a beauty of Welsh history. These small curly-headed porcelain dolls are about 6 1/2" high overall, including their hats. Their heads, arms and legs move, and they can either stand or sit. Boxed. Please indicate your choice:
WD2A. Blond hair, red ribbons on skirt. $9
WD2B. Brown hair with reddish tints, green ribbons on skirt. (On your monitor her hair may look darker in the photo than it really is.) $9
Traditional Welsh Doll With Plastic Body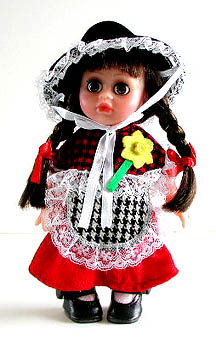 WD3. This is Anwen, who has big eyes that open and shut. How cute can she get? 9"tall. Comes in a plastic tube that has her name on it. $11.
Traditional Welsh Doll Hats
We've been asked for these, and finally found them in two sizes.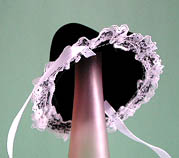 WD10A. Size large (far left). Inside opening is 2 1/2" in diameter. 2 3/8" high, 5/8" brim. $4
WD10B. Size small (left). Inside opening is 1 5/8" in diameter. 1 3/8" high, 1/2" brim. $2
You are on the Welsh Dolls page of the web site www.harpanddragon.com .
There are over a hundred pages on this web site; click on the Back to Home Page link
to see an outline of this entire site.
Notice:
The Harp and Dragon business is for sale.
We invite inquiries about buying up our inventory.
Please click here to inquire.
We will remain in business for the foreseeable future until we announce otherwise.
If you do not receive a reply from us within a day or so after sending in an order, or after emailing a question, please contact us again, as our reply may have been thrown in your spam bin or may have returned to us. Exceptions: weekends or when we note on our front page that we are closed for any reason.