Welsh Flags and Welsh Flag String
Fly that red dragon (in Welsh, draig goch)
Welsh Flags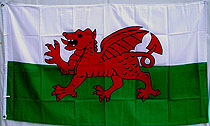 The Welsh flag: a red dragon (in Welsh, y ddraig goch) on a green-and-white background. The red dragon has been recognized as a symbol of Wales since Arthurian times; it is not to be confused with either the griffin or the Scottish lion, which, although similar, are different beasts.



WF3. Rayon woven Welsh flag , for framing (or anything else!). Screened design. 12" x 8 1/2". $4
WF5. String of triangular flags, shown below left, and closeup of single flag, below right. (In Wales, they call this bunting.) The string is 33 feet long overall with 25 woven polyester flags on it. Each triangle is 12" long and 8 1/2 inches wide across the top. $9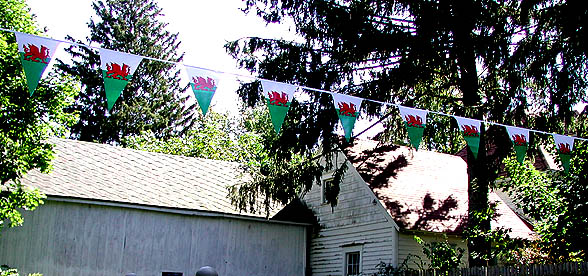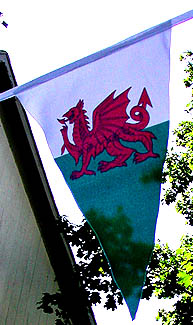 Small Dragon "Football" Rug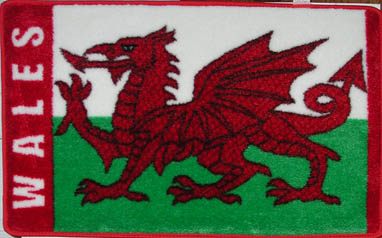 WF6. Advertised as "A must for the No. 1 fan!", this rug is apparently intended for taking to the stadium and sitting on to keep your you-know-what warm. (In Wales, "football" is what they call soccer.) Of course, it also advertises which team you are rooting for. However, if you think of a different use for it, we won't tell. Short, cut pile, synthetic fiber, tape-bound edges, rubberized backing. Non-slip, machine washable. Size: 31 1/2" wide, 19" high. $35
Welsh flag. 3' x 5'. Screened 100% polyester, with tape and grommets. $15 We are out of stock on this flag and are not sure when we will have more.

Welsh flag. 2' x 3'. Screened, with tape and two grommets. This is a lightweight fabric, possibly polyester or rayon, good for hanging indoors. $10 Out of stock.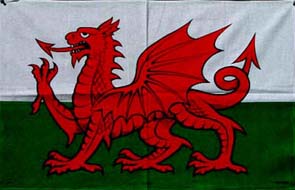 Welsh flag teatowel. Nice bright colors, properly fierce dragon outlined in black. Cotton. Size: about 29 1/2" long by 18 3/4" wide. $7 Out of stock.
Although we call this a teatowel because of its size and material, it is excellent for using as a hanging flag at a Welsh event.
You are on the Welsh Flags page of the web site www.harpanddragon.com.
There are over a hundred pages on this web site; click on the Back to Home Page link
to see an outline of this entire site.
Notice:
The Harp and Dragon business is for sale.
We invite inquiries about buying up our inventory.
Please click here to inquire.
We will remain in business for the foreseeable future until we announce otherwise.
If you do not receive a reply from us within a day or so after sending in an order, or after emailing a question, please contact us again, as our reply may have been thrown in your spam bin or may have returned to us. Exceptions: weekends or when we note on our front page that we are closed for any reason.