The Even Song Harp
by Stoney End
The Even Song was designed by request for music therapy. This 26-string harp offers three-and-a-half octaves from C to G. It can be worn over the shoulder with a wide strap, resting across the lap with knee bones, or attached to a stand for seated play. In spite of its small size, this harp has a soothing rich voice and impressive volume.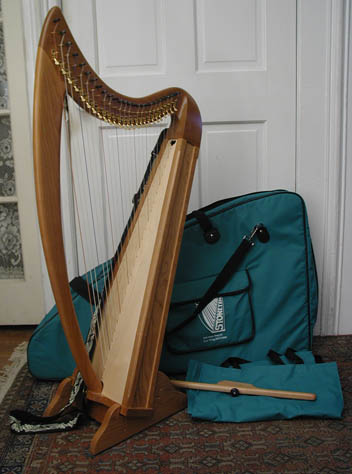 At left we show the cherry Even Song model harp sitting on its matching stand. It has a full set of Truitt levers and a harp strap, and comes with knee bones, green padded carrying case with side pocket for music, and matching green stand tote. Price also includes extra string set, tuning key, lever adjustment tools and string chart. Inclusive price for all items: $1799.00
Specifications for these Even Song model harps:
Number of strings: 26
Range: C (one octave below middle C) up to G, 3 1/2 octaves.
Dimensions: Height 43", Width 10", Depth 21".
Weight: 11 pounds
Sound Sample of Even Song
A Second Sound Sample of Even Song
Notice:
The Harp and Dragon business is for sale.
We invite inquiries about buying up our inventory.
Please click here to inquire.
We will remain in business for the foreseeable future until we announce otherwise.
The Harp and Dragon
25 Madison St, Cortland, NY 13045 USA
Secure telephone 607-756-7372
How to email us
Ordering information
How to place an order