Waltons Penny Whistles and Whistle Packs
Waltons Nickel D Whistle With Red Mouthpiece

PW1. Waltons nickel whistle in D with red mouthpiece. In stock. Fingering chart supplied on request. $12 each.
Our customers sometimes ask us about the difference between brass and nickel instruments, since the nickel always costs more. The answer is that the nickel is a harder metal than brass and wears better, and doesn't show fingerprints as easily. This is why we prefer to keep this whistle in stock.
The Waltons Brass D Whistle with Green Mouthpiece.

This brass D whistle is available; we will order it in quantities if you wish. Contact us on availability and pricing on quantity.
The Waltons Little Black D Whistle

PW3. The Waltons Little Black Whistle, key of D. This inexpensive whistle is popular with teachers for music classes. We do not carry this whistle in stock, but can order a quantity for you. Weight: 0.5 oz. Contact us for a price for the quantity you want.
Guinness Penny Whistle Pack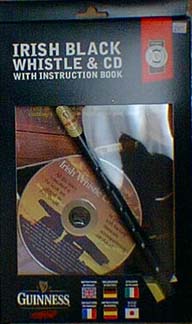 PW7. Waltons of Ireland three-piece set that includes:
1. Aluminum Guinness black D whistle,
2. Waltons Irish Whistle Book, and
3. Accompanying CD. The CD plays all the pieces in the book "as they should be played" with background guitar.
Because all the tunes in the book are diagrammed (i.e., have finger charts for every note), it is not necessary to know how to read music to learn to play.
With its attractive box, this makes a very nice gift for someone who wishes to play the penny whistle. $26
Waltons Penny Whistle Pack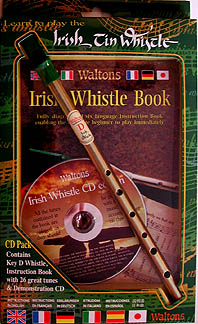 PW8. Three-piece set that is packaged in an attractive box like the Guinness one above, except that this box is green with a music note motif. Contents: Waltons brass D whistle with green plastic mouthpiece, same Waltons Irish Whistle Book, and same accompanying CD. A nice gift for a beginner. $23
Absolute Beginners DVD Penny Whistle Pack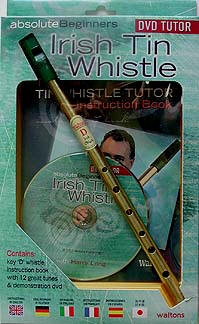 PW9. Three-piece set containing: Waltons brass D whistle with green mouthpiece, whistle instruction book, and instruction DVD. This whistle method was developed by Harry Long, a renowned player in traditional Irish music circles. Twelve easy-to-follow lessons show you how to play! $32
Back to the main Irish Musical Instruments page
You are on the Waltons Penny Whistles page of the web site www.harpanddragon.com
There are over a hundred pages on this web site; click on the Back to Home Page link
to see an outline of this entire site.
If you do not receive a reply from us within a day or so after sending in an order, or after emailing a question, please contact us again, as our reply may have been thrown in your spam bin or may have returned to us. Exceptions: weekends or when we note on our front page that we are closed for any reason.