Welsh Towels
and Other Fabric Items
Teatowels, tea cosy, beach towel, totes, etc.
Welsh Teatowels
These are cotton, unless otherwise noted. Size: about 29 1/2" long by 18 3/4" wide.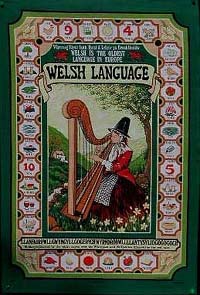 WT1A. Welsh Language/ Harpist. Features a young lady in Welsh costume playing a harp; all around her are drawings of items labeled in Welsh. Dark green border. Cotton. $7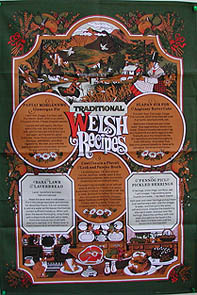 WT1B. Traditional Welsh Recipes. Glamorgan Pie, Anglesey Batter Cake, Leek and Parsley broth, Laverbread, Pickled Herrings. Dark green border with orange highlights in the design. Cotton. $7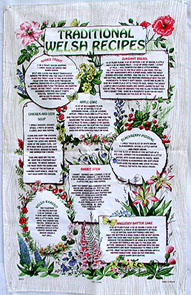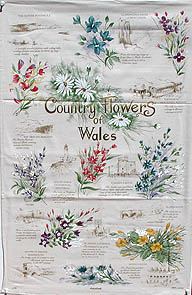 WT1C. (far left) Traditional Welsh Recipes. The recipes are: baked trout, currant bread, chicken and leek soup, apple cake, blackberry pudding, rabbit stew, Welsh rarebit, and Anglesey batter cake. Attractive flowers surround the recipes. $7
WT1D. Country Flowers of Wales, teatowel. $7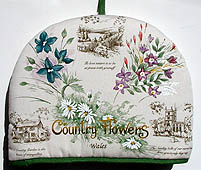 WT1J. Country Flowers of Wales, matching tea cosy, shown at left. Outer size: 12 1/2" wide, 10" high. Note that, because of thick padding, it will fit over a teapot with somewhat smaller measurements. 100% cotton fabric outside and lining, with polyester fill. Washable. $15
Welsh Flag Face Cloth

WT12. In Wales, this is called a face flannel, but it is made of terry cloth. This would be a real show stopper in your bathroom. Also could be put under a pot or vase, or under your table centerpiece. 12" square. $4
Welsh Totes
The tote bags below match the two aprons above, and are made of the same sturdy plasticized fabric. We think that an apron/tote pair would make nice his'n hers gifts for a couple. (You decide who gets the apron and who gets the tote!) All tote sizes are of the tote itself, not including handles.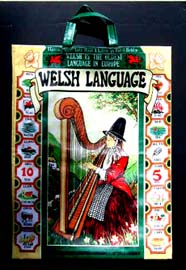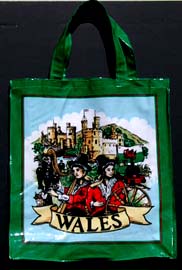 WT16(far left). Welsh language/harpist tote bag has the same design both front and back. Size of tote, not including handles, is 19" high x 14 1/4" wide. This is a flat-style tote. Plasticized fabric. $12
WT17 (immediate left). Wales symbols tote bag displays harpist, castles, male choir, spinner, train, flag etc., with the same design on the front and back. Size of tote, not including handles, is 16" high x 14" wide. This tote is especially roomy because it has a 4" gusset around the sides and bottom, making this a 3-D bag. Plasticized fabric. $12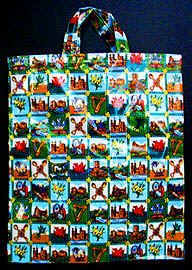 WT19. Welsh squares tote: shown below: dragon, harp, castle, daffodils, lovespoons, train, three feathers, etc. Plasticized fabric, flat style. Size 19" high x 14 1/4" wide. $12
Head Band, and Bandanas

WT23B. Knit poly head band is 42" long and 3" wide. This can be worn to keep your hair back, or as a sports band to keep sweat from your face. It is folded over double, and the design is the same on both sides. $6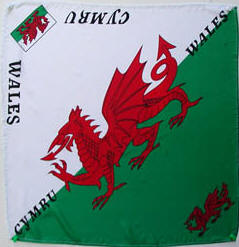 WT23C. Small poly bandana, silky feel. Size: 18" square. $4
WT23D. Large poly bandana, silky feel. Size: about 25" square. $6
Welsh Dragon Dress (One left)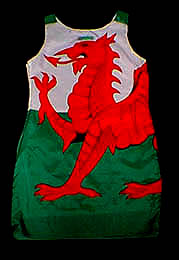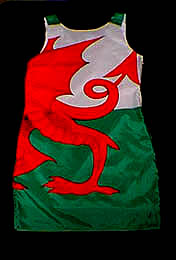 Sale! WT26B. Dragon sheath dress is made in Wales. It features a wraparound dragon that will stop everyone in their tracks. Left photo shows the front and right photo shows the back; how much of the dress the dragon covers will depend somewhat on size. (The dress shown is a British 14, which is more like an American 12.) Good-quality nylon fabric, with white nylon lining. There is a zipper down one side. We suggest that you give us your measurements when picking one of these. The one that is left is a British 18. Was $42, now $35.
(If you are not sheath shaped - not all of us are - you could open up the sides of the skirt, and wear a white under skirt with this dress over top.)
Dress measurements of size 18: Bust 42", Seat 46", Length (shoulder to hem) 36 1/2".
Men's (or Women's) Welsh Dragon Shorts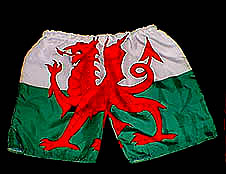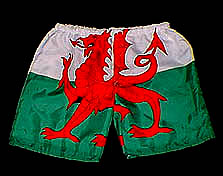 Sale! WT27. Dragon shorts made in Wales in the Welsh flag colors. We show front and back views; as you see, they look about the same coming or going. High-quality nylon, with white nylon lining. We guarantee that if you go running in these at night, no car will run you down! Note that how much of the shorts the dragon covers may depend a bit on the size; the ones shown are a 36. Elasticized waist; some have drawstring and some do not. We suggest that you tell us your waist size (men) or seat size (ladies). Available in waist sizes 36" to 42". Were $34, now $25.
Women's Dragon Sweatshirt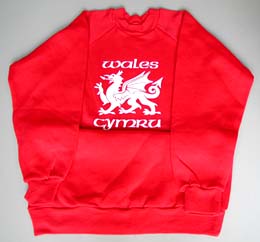 WT33. We have just a couple of these sweatshirts that we found on the shelf. British size small (this is smaller than U.S. small). 65% polyester, 65% cotton. Fleece feel inside. Made in UK. $25
You are on the Welsh Fabric items etc. page of the web site www.harpanddragon.com
There are over a hundred pages on this web site; click on the Back to Home Page link
to see an outline of this entire site.
Notice:
The Harp and Dragon business is for sale.
We invite inquiries about buying up our inventory.
Please click here to inquire.
We will remain in business for the foreseeable future until we announce otherwise.
If you do not receive a reply from us within a day or so after sending in an order, or after emailing a question, please contact us again, as our reply may have been thrown in your spam bin or may have returned to us. Exceptions: weekends or when we note on our front page that we are closed for any reason.