Welsh Souvenirs
and Small Gifts
Stickers, badges, and many other other items with traditional Welsh motifs.
We request a minimum of $15 per order on the small items below, unless they are ordered in addition to other items on this site catalogue.
On a separate page: we have Welsh-symbol small enamel lapel pins. Most of these lapel pins are about half an inch high, some bigger.
Collectors' pins: Welsh train engines, British doubledecker buses and British cars of the past.
Welsh Lady Wall Plaque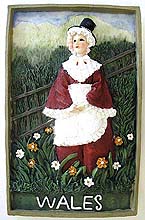 WS2. This pretty Welsh lady standing amid the flowers is hand painted onto resin with surprising detail. She would fit in a small space, or with a wall grouping of Welsh items. 6" x 3 3/4" $8
Dragon Rubber Stamp

WS4. Traditional Welsh dragon rubber stamp. This stamp is great for envelopes, table napkins, stationery, posters, cards or any other art project. The actual dragon rubber stamp is 1 3/4" across. $9
Sew-On Wales Cloth Badges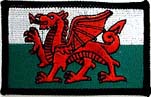 WS5A. Welsh flag embroidered cloth rectangle, nice quality. 2 1/2"w x 1 5/8"h. $4

WS5B (Not shown) . Welsh flag embroidered cloth shield, with Wales, 2 1/2" h. $3.50. We also have a couple of these with the same shield shape, but 1 7/8" h. $2.50. Please specify size.


WS5C. The high-quality blazer patch at left has gold wire edging and an embroidered dragon. This is a high-quality item and goes well on an expensive blazer. It can be sewn on your jacket pocket as is, or you can cut the outer black fabric off around the shield. If you want to see it in more detail, please click on the thumbnail photo. Size of shield is 3 1/4" high by 2 5/8" wide. $15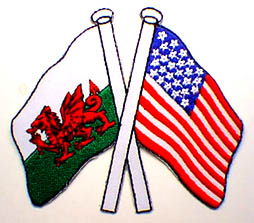 WS5D. Cutout embroidered crossed Welsh/American flags. Stiff fabric; you would probably glue this badge in place. 3 1/2" across. $3.50
Wales Iron-On Embroidered Badges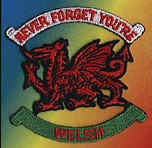 WS5E. Red dragon with black outlines; a banner above and below the dragon says, "Never Forget You're Welsh." If desired, you could cut off the banners and just use the dragon, which is a cutout piece. (The colored background is the packaging paper.) Size: dragon is 2" across, overall design with banners is 2 1/2" high. $4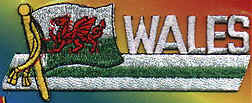 WS5F. Welsh flag with "Wales" in white cutout letters. Both the flag and the "Wales" lettering sit on a green-and-white ground strip. (The colored background is the packaging paper.) Length: 4 1/2" overall (this is a largish badge), height 1 3/4". $4
Welsh Bumper stickers
WS6A. Proud to Be Welsh. 12" long. $1.50
WS6B. Welsh Is Wondrous. About 12" long. $1.50

Welsh Flag and Dragon Stickers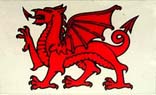 WS7A. This red dragon inside window sticker is on a clear sticky background that peels off the cardboard. This is the perfect dragon for your rear car window, and we say he's a very nice dragon, too. The actual dragon is 3 1/4" across x 2 1/4" high. 1.50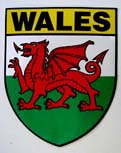 WS7B. Shield flag sticker is 4" high and 3 1/4" wide. The paper peels off the back. $1.50.

WS7C. Glitter sticker "I've Been To Wales." Size: 7" x 2 1/2." $0.50 each.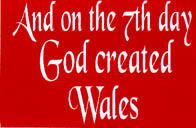 WS7D. Sticker, "And on the 7th day God created Wales." Amen, we say. Red with white lettering, 5 1/2" wide by 3 3/4" high. $3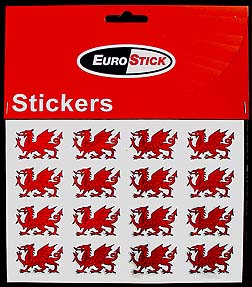 WS7E. Page of 16 dragon stickers, each 1 3/8" across. $4 for page of 16 dragons.
Welsh Dragon Wallet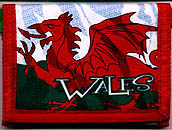 WS17. Attractive wallet is made of nylon fabric with Velcro closure. 4 3/4" wide, opens up to 9 3/4" long. The outside back has a zipped coin pocket; inside are various other pockets for bills, credit cards or whatever. The wallet comes attached to a cardboard dragon header, from which it detaches, of course. $6 We have one of these left.
-
Sale! Dragon Mousepads and Decorative Item

WS22. Cymru mousepad (yes, in Wales they call it a mouse mat!). (Cymru, pronounced "come-ree," is Welsh for "Wales.") Size: 8 5/8" x 7". Yes, these aren't used for that purpose much anymore, except by us old-fashioned sorts of people. But they are rather nice for putting under plants, setting up on your knick-knack shelf, or whatever else suits your fancy. $4 each, 2 for $3 each, 3 or more for $2 each.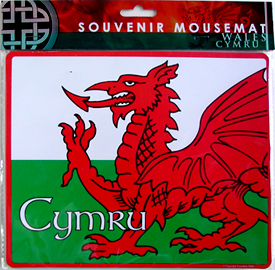 Dragon Mousepad-and-Coaster Set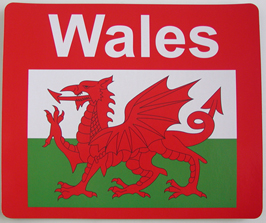 WS23. Mousepad is 8 1/4" x 7", cork-bottom coaster is 3 3/4" square. (Surely I am not the only person who drinks coffee while working at my computer??) See my note on the mousepad above for other uses. Packaged as a set. $5 each, 2 @ $4 each, 3 or more at $3 each.
Dragon Luggage Tag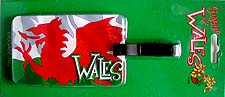 WS25. Dragon luggage tag. You will recognize your luggage when it comes around the carousel! Dragon and "Wales" are raised. Made of sturdy plastic. Size 4 x 2 3/8". $6
We have a baby dragon luggage tag on the children's page.
Welsh Dragon Pencils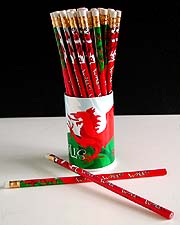 WS31. Pack of 36 pencils. $18
Note: the ones we currently have are similar to the ones shown, but are not identical. There are two dragons on each pencil. Wording "Wales-Cymru."
Jen Delyth Design Dragon Magnet

WS33. A Welsh dragon poses in front of Stonehenge on this round rubber magnet, 1 7/8" in diameter. We have a limited quantity of these. $3 each.
Welsh Gift Tags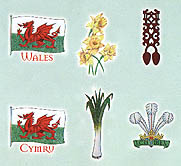 WS34. Wales symbols gift tag: Welsh flags, daffodil, leek, lovespoon, Prince of Wales feathers. Folds to 3" x 2 1/4", blank inside. Printed on card stock. 50 cents each.
Click here for some nice-quality cards with drawings of Welsh scenes.
See our page of lovespoons for small, long boxes that could be used for giving small items.
You are on the Small Welsh Souvenirs page of the web site www.harpanddragon.com
There are over a hundred pages on this web site; click on the Back to Home Page link
to see an outline of this entire site.
Notice:
The Harp and Dragon business is for sale.
We invite inquiries about buying up our inventory.
Please click here to inquire.
We will remain in business for the foreseeable future until we announce otherwise.
If you do not receive a reply from us within a day or so after sending in an order, or after emailing a question, please contact us again, as our reply may have been thrown in your spam bin or may have returned to us. Exceptions: weekends or when we note on our front page that we are closed for any reason.