Roosebeck Kinnor
This Biblical musical instrument is a modern adaptation designed according to what we know about it from ancient times. Often translated as "harp" in the Biblical manuscripts, it is mentioned throughout the Psalms.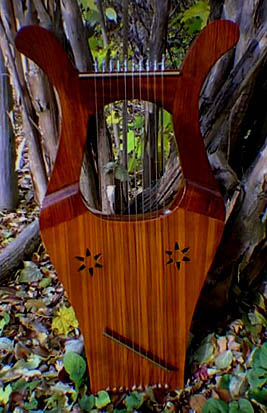 Also known as David's harp, this is a 10-string instrument that somewhat resembles a lyre. Its design is based on what is known about the Biblical instrument. Ten strings is a very limited playing range; it should be noted that this instrument can be used mainly for plucking chords in accompaniment to a voice or other instrument. You hold the instrument with one arm and pluck with the other hand. Rosewood, nylon strings. 27" high. You can tune the strings in any key you like, although a possible ancient tuning is offered on the accompanying sheet. The stated price includes nylon zippered carrying case, shown below, and tuning key.
The current model looks like the kinnor at left, except that the bottom part (striped in the picture) is ash, which has a different grain and is a bit lighter. This gives it a two-color look.

Roosebeck is the brand name of Mid-East. This instrument is available as a drop ship item.
Price: $275 Weight including case (see below) and shipping box is 11 lb. Shipping will be charged extra.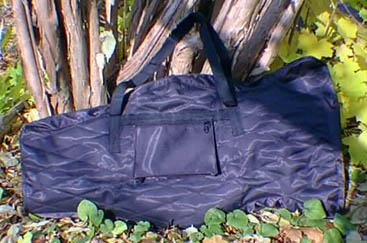 At left we show this kinnor in its zipped carrying case.
You are currently on the Kinnor page of the web site www.harpanddragon.com .
There are over a hundred pages on this web site; click on the Back to Home Page link
to see an outline of this entire site.
Notice:
The Harp and Dragon business is for sale.
We invite inquiries about buying up our inventory.
Please click here to inquire.
We will remain in business for the foreseeable future until we announce otherwise.
If you do not receive a reply from us within a day or so after sending in an order, or after emailing a question, please contact us again, as our reply may have been thrown in your spam bin or may have returned to us. Exceptions: weekends or when we note on our front page that we are closed for any reason.