Celtic Sterling and Gold Jewelry
Beautiful Celtic Designs to Wear with Pride
If you are buying jewelry as a gift, you may want to keep in mind that sterling, like pewter, looks best on people of dark hair, and skin with blue tones. Silver wearers tend to wear clothing that is black, white, deep blue, purple or other clear, deep colors. Our sterling is 92.5% silver, by the way.
Gold looks best on people with light or reddish hair and fair skin; gold wearers tend to wear clothing that is green, brown, yellow, orange and various pale colors.
The pieces on this page are not the only sterling and gold that we have, of course; there is sterling and gold sprinkled throughout most of our other pages of jewelry under various categories (eg crosses, cloak pins, Irish, Scottish, Welsh, harp). The ones on this page are earrings, necklaces and pins in general Celtic designs.
Men's Sterling Celtic Knot Rings

ST18. Men's sterling ring. This is a thick ring, in proportion to its size, and has a lot of silver in it. We have the following sizes: 11 1/4, 12, 12 1/4, 12 1/2. $20
Gold Celtic Knot Pendants

ST1. This interlace Celtic knots piece in 10-carat gold hangs on a fine 18" 10-carat chain. The pendant is 9/16" across. It's made with an extra gold wire all around the back edge, so that the piece appears to be 1/16" thick. $60

ST2. Simple Celtic knot in 10-carat gold, hangs on a fine 18" 10-carat chain. The pendant is 7/16" across. $42
Sterling Celtic Knots Choker

ST4. Sterling choker, Celtic knots design. The pendant is 1 3/4" across and the chain is 14", making a total of about 16" around. This is a solid sterling piece with some thickness to it, nice quality. $39
Sterling Celtic Herons necklace by Rhiannon of Wales

ST5: Herons (Creyr in Welsh) pendant is hand crafted in Wales by Rhiannon. Measures 2" across on 20" chain. $84

Sale! Trinity Knot Celtic Pieces by Rhiannon of Wales
The sterling pieces shown below are made in Wales by Rhiannon;
they are hand crafted and are of very high quality.

ST6A: Trinity knot pendant (far left) is 7/8" across. Measures 21" around including chain and distance across the top of the piece. Regular $49, now $39.

ST6B. Trinity knot pendant on nice 20" curb chain. 7/8 " across. Regular $49, now $39.

ST6C: Trinity knot earrings are 7/8" across, same size as the pendants above, on sterling hooks. Regular $67, now $50. We have one pair of these left.
Celtic Amber Drop Earrings and Pendant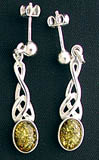 These beautiful pieces are made of sterling with real amber stones. Note that the intensity of color of the amber can vary somewhat.
ST8A. Celtic knot drop pendant on delicate 20" sterling curb chain (far left). Pendant is 1 1/4" long including hanging ring. $20
ST8B. Celtic knot drop stud earrings to match. These are exactly the same knot drop pendant as 8A. Each earring is 1 1/8" long. $33

Celtic Triscel Spirals Pendant

ST9. The Celtic triscel spirals piece shown at left is solid sterling; it is slightly domed (i.e., not flat). The background of the design is stippled unpolished silver. Pendant is 1" in diameter on choice of 20" or 24" sterling chain. $25

Celtic Interlace Earrings and Pendant


Sterling earrings and pendant have a delicate Celtic interlace design that is very pretty. The round Celtic piece is 3/4" across for both the earrings and pendant.
ST10A. Celtic interlace earrings. $18
ST10B. Celtic interlace pendant on 20" sterling curb chain $17
Small Celtic Knot Pendant
The BR6 Celtic knots bracelet on the bracelets page matches the pendant ST11 below.

ST11. Sterling Celtic knot pendant with bail, on fine 18" curb chain. This is a small piece; the knot itself is 3/8" across. $15.
Heather Gem Jewelry
The jewelry pieces below, made in Scotland, each have an unusual "gem" which is made of real heather stems that have been dried, dyed with natural dyes, pressed tightly under enormous pressure, cut and hand lacquered. Every heather gem has different coloring and design; no two are alike. Colors are a mixture of purple, red, green, yellow and blue; the ones shown below are typical. If you request a couple of colors you would prefer, we'll do our best for you; however, we regret that we cannot guarantee what color you will get.

ST12A: Oval drop earrings: these are oval pieces of heather gems hanging on sterling hooks. The ovals are 5/8" long. $31

ST12B (far left): Sterling Celtic knot necklace: pendant is 1 1/4" across with a round heather gem stone inset. This is about 16" around, and is worn high at the neck. $30


ST12C. Small stud earrings are 1/4" across. The round heather gem is set into a sterling silver cup (the rim is barely visible around the heather stone). Sterling backs. $20.


These pretty pieces with a sterling surround can be bought separately. If you wish a set, we will try to match them for you. They are shown oversize to show their detail better; please check the given measurements on a ruler.
ST12E. Pendant is 3/4" high, not including the hanging bail, on a fine 18" sterling curb chain. $21
ST12F. Earrings are 3/4" high, same as the pendant, with sterling hooks. $37
Sale! Sterling Celtic Knot Pendants, Earrings and Pin



These solid sterling Celtic knots in square settings have a modern look to them, combining the old and the new in a stylish way.
Left to right:
SALE! ST15A . Sterling rectangle necklace is all solid silver: there is a Celtic knot in the thick piece 7/8" long that hangs on a thick ring on a nice 20" snake silver chain. Was $28, now $20. We have one of these left.
ST15B. Knot-in-square pendant is half an inch square, hangs on a 20"link chain. $19
ST15D. Knot-in-square pin is 1" square; the triscel knot is shiny, and the square frame is matte finish. This pin looks stunning on a jacket lapel! Was $38, now $29.

Sterling Triscel Pendant

ST17. Triscele pendant hangs on a 20-inch curb sterling chain. The triscele is 3/4 inch across. $17


You are on the sterling jewelry page of the web site www.harpanddragon.com .
There are over a hundred pages on this web site; click on the Home Page link
at left to see an outline of this entire site.
Notice:
The Harp and Dragon business is for sale.
We invite inquiries about buying up our inventory.
Please click here to inquire.
We will remain in business for the foreseeable future until we announce otherwise.
If you do not receive a reply from us within a day or so after sending in an order, or after emailing a question, please contact us again, as our reply may have been thrown in your spam bin or may have returned to us. Exceptions: weekends or when we note on our front page that we are closed for any reason.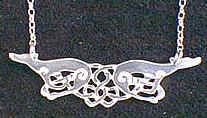 Not available.