Welsh Dragon Tie and Bow Tie
The dragon is a traditional Welsh motif that appears on many Welsh items.
Note: We have some dragon tie bars on our page of Welsh jewelry.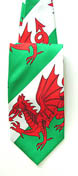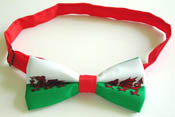 CT15 (far left). They can see you coming when you wear this bold dragon tie in the flag colors! 3 3/4" wide. Were $17, SALE $10
CT16 (immediate left). Dragon bow tie in the flag colors. Pretied, adjustable red neck strap. Bow is 4 1/2" across. $17 SALE $10
Sale! Welsh Harp Tie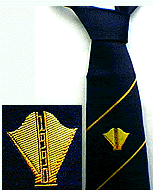 CT17. Lined polyester collectors' tie, made in Wales, was produced to celebrate a festival there years ago (yes, it says 1990 in tiny numbers between the harps). Design is woven into the tie. Was $15, now $10.

You are on the Welsh Ties page of the web site www.harpanddragon.com
There are over a hundred pages on this web site; click on the Home Page link
at left to see an outline of this entire site.
Notice:
The Harp and Dragon business is for sale.
We invite inquiries about buying up our inventory.
Please click here to inquire.
We will remain in business for the foreseeable future until we announce otherwise.
If you do not receive a reply from us within a day or so after sending in an order, or after emailing a question, please contact us again, as our reply may have been thrown in your spam bin or may have returned to us. Exceptions: weekends or when we note on our front page that we are closed for any reason.