Welsh Caps and Ties
The dragon is a traditional Welsh motif that appears on many Welsh items. Also traditional is wool (there are more sheep than people in Wales.)
Note: We have some dragon tie bars on our page of Welsh jewelry.
Wales Baseball Cap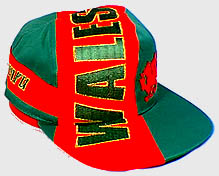 Sale! CT1. The Wales baseball cap at left is made of chino cotton with the "Wales" embroidered in green and outlined in gold embroidery. On the left side of the picture you can see part of the smaller word "Cymru," which is also embroidered in green and outlined in gold embroidery. On the right side is a nice embroidered dragon 2 1/2 inches from nose to tail. Adjustable. Was $15, selling off at $12.
Dragons Baseball Cap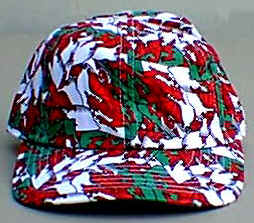 CT3. Dragons baseball cap has Welsh flags all over it. Cotton, adult size, with fabric-covered elastic piece across back opening for fit adjustment. $6
Wales/Cymru Dragon Baseball Cap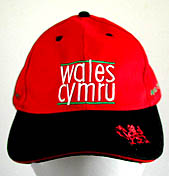 CT4. Red baseball cap with stiff black brim. A red dragon is embroidered on the brim, and "Wales Cymru" is embroidered in large white letters on the front of the cap. Smaller green embroidered lettering on both sides spells "Wales - Cymru." Good-quality fabric. Adjustable. $13
Tweed Wool Boys' Welsh Costume Cap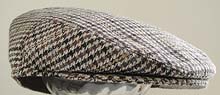 CT7. This British-style tweed cap in wool blend has a snap brim, quilted lining. (They do not have elastic for adjustability.) Two British sizes: 55 cm and 56 cm. These are men's smallish medium sizes: 55 cm is American 6 7/8; 56 cm is American size 7. Sorry, these are our only sizes. We ordered them especially for boys' Welsh costume outfits. Price: $12
Welsh Dragon Beanie Knit Cap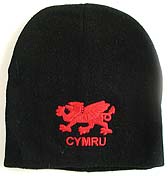 CT8. This black acrylic knit cap is called a beanie by our supplier. The red dragon and the "Cymru" ("Wales") are embroidered. Double knit layers, fine knit, nice feel, quite stretchy. One size. $10
Dragon and Other Welsh Ties and Dragon Bow Tie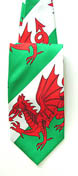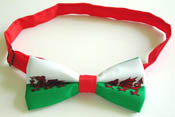 CT15 (far left). They can see you coming when you wear this bold dragon tie in the flag colors! 3 3/4" wide. $17
CT16 (immediate left). Dragon bow tie in the flag colors. Pretied, adjustable red neck strap. Bow is 4 1/2" across. $17
Welsh Harp Tie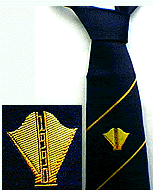 CT17. Lined polyester collectors' tie, made in Wales, was produced to celebrate a festival there years ago (yes, it says 1990 in tiny numbers between the harps). Design is woven into the tie. Was $15, now $10.

You are on the Welsh Ties page of the web site www.harpanddragon.com
There are over a hundred pages on this web site; click on the Home Page link
at left to see an outline of this entire site.
If you do not receive a reply from us within a day or so after sending in an order, or after emailing a question, please contact us again, as our reply may have been thrown in your spam bin or may have returned to us. Exceptions: weekends or when we note on our front page that we are closed for any reason.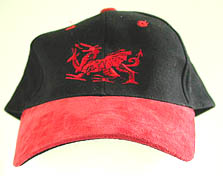 CT2. Black baseball cap has red suede visor and embroidered red dragon. Adjustable. $8.
Not available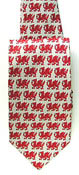 This tie currently not available.

NA



This is what the dragon on these ties looks like (the tie fabric is actually smooth, but this closeup shows the weaving).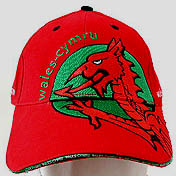 NA