Celtic Gifts and Crafts
Bronzed plaques, window stickers, and more.
For other Celtic gift and craft items, please see our pages of Irish Gifts, Scottish Gifts and Welsh Gifts.
We have a lot of Celtic jewelry in the jewelry pages of this site; to reach those pages please click on Celtic Jewelry.
Sale! Beautiful Pair of Celtic Bronzed Wall Plaques
Hand made in Ireland of resin with a beautiful bronzed finish. These are a quality item for decorating your home. They also make a nice housewarming gift.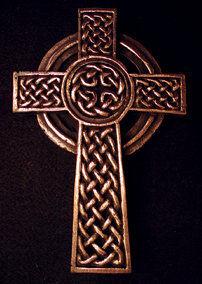 CG1. Celtic cross. 8" high, 5 1/8" wide. Comes in a very nice gift box. $35. Sale $29
There is a beautiful Celtic harp plaque on our page of harp novelty items (HN2). It's made by the same maker, and matches this cross in style.
We found these in Dublin at the craft show, and were struck at once by how nice they were.
Celtic Window Stickers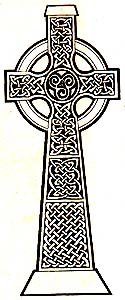 The beautiful Celtic window stickers shown are printed on clear plastic; to attach them, you dip the sheet in soapy water and press onto the glass. Since these aren't actually sticky, they are reusable. These are nice for house windows or your car. From left to right:
CG2A. Celtic cross. This is a large cross in black outlines, 8" high. $7
CG2B. Colored square cross, 3 1/2" across. $4
CG2C. Square cross in black outlines, 3 1/2" across. $4
CG2D. Colored Celtic knots, 3 1/2" square. $4
CG2E. Harp in Celtic wreath, black outlines, 3 1/2" across. $4
Celtic Knot Tie Bar

CG3A. Celtic knot tie bar. Pewter, by St. Justin of Cornwall. Knot is 3/4" across on 2" bar. $22 We have one of these left.
Celtic Knot Cuff Links

CG3B. Celtic knot cufflinks. Pewter, by St. Justin of Cornwall. These match the CG3A tie bar above. Knot is 3/4" across. $30
Lady's Celtic Buckle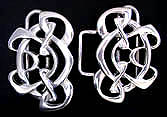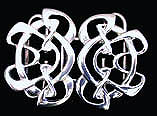 CG4. Celtic two-piece buckle with cut-out design, especially designed for the ladies. You can sew each end of a fabric belt onto the pieces, and then fasten the belt by hooking the two pieces together. We show the buckle both fastened and unfastened at left. It takes a belt up to 1 3/4" wide; the buckle itself is 3 1/2" across when fastened. This is a marvelous buckle to highlight a dress. $44 We have one of these left.
Celtic Magnets, Jen Delyth Designs



We found a few of these flat rubber magnets on the shelf, and are offering them at $3 each. 1 7/8" diameter.
CG12A. Four Celtic birds. CG12B. Triscels design. CG12C. Celtic moon.
Celtic Cross-Stitch Kits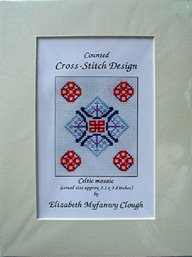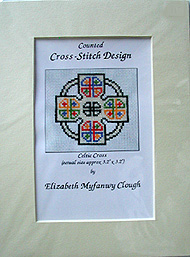 Cross-stitch kits by Elizabeth Myfanwy Clough. These include white mesh background, embroidery thread, plus a beige mat for framing. We have just a few of these.
CG13A. Celtic Mosaic (far left). The actual worked design is about 3.1 x 3.8 inches. $11
CG13B. Celtic Cross. Actual design is about 3.2 x 3.2 inches. $11
You are on the Celtic Gifts page of the web site www.harpanddragon.com .
There are about a hundred pages on this web site; click on the Back to Home Page link
to see an outline of this entire site.
If you do not receive a reply from us within a day or so after sending in an order, or after emailing a question, please contact us again, as our reply may have been thrown in your spam bin or may have returned to us. Exceptions: weekends or when we note on our front page that we are closed for any reason.