Harp Novelties and Gifts
Miscellaneous harp things for harp lovers!

Our harp jewelry and harp lapel pins are on separate pages.
Notice:
The Harp and Dragon business is for sale.
We invite inquiries about buying up our inventory.
Please click here to inquire.
We will remain in business for the foreseeable future until we announce otherwise.
Warwick Harp Miniature

HN1. We found just three of these tiny, detailed harps on the back shelves. Handpainted pewter, made in England. These will stand on their own. Size: 1 1/8" high. We'll sell them for $10 each.
Bronzed Celtic Harp Plaque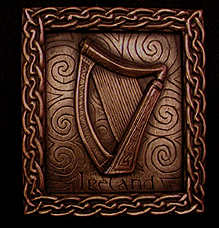 HN2. This beautiful bronzed raised-design harp plaque is made in Ireland. The harp is framed by two ancient Celtic motifs, a background of spirals and interlace all around. Made of a heavy resin material. Size: 6 3/4" high x 6" wide and about 5/8" deep. Comes in a nice gift box. Weight of boxed plaque is almost 1 1/2 lb. $40
Small Brass Pedal Harp

HN4. Brass-plated pedal harp stands on its own as a decorative piece, or it can be hung as a gleaming ornament on the Christmas tree. 4" high. $4 each. Teachers: these make a nice gift for your students. Note: most of these have tiny bits of black here and there in the strings; this appears to be the result of the method of manufacture.
Gold-Colored Flat Pedal Harp Plaque

HN5. Gold-colored metal pedal harp is flat on the back. This piece can be glued to anything, or can be nailed on your doorpost to say that a harpist lives here. 3 1/2" high. $4 each, or 3 for $10.
Small Brass Welsh Triple Harp Plaque

HN6. This oval brass plaque with a raised triple harp will announce to the world that there is a harpist in residence! The Welsh triple harp design for the mold was taken from our own harp logo by a firm in South Wales that makes high-quality brass by the old-fashioned sandcasting method. 4" high, with holes top and bottom for screws (not supplied). $10
Harp Rubber Stamps
We have a harp rubber stamp in three sizes, plus some other Celtic and musical stamps. These have a page of their own on this site. Click on rubber stamps:
Celtic Harp Window Sticker

Celtic harp window sticker: this is pictured on our Celtic Gifts page.
Pedal Harp Mug
HN11. Harp mug: in cobalt blue or black, with white interior. We got a small quantity in from Wales. A nice pedal harp is outlined in white, and the words Telynau Morgannwg (the name of a harp school in South Wales). On the bottom it says The Welsh Beaker Company: Made In Wales. (A mug is called a beaker over there.) Please state color choice. $12 For a picture of this mug, click here.
You are currently on the Harp Novelties page of the web site www.harpanddragon.com .
There are over a hundred pages on this web site; click on the Back to Home Page link
to see an outline of this entire site.
If you do not receive a reply from us within a day or so after sending in an order, or after emailing a question, please contact us again, as our reply may have been thrown in your spam bin or may have returned to us. Exceptions: weekends or when we note on our front page that we are closed for any reason.