Welsh Gifts, Crafts, and Miscellaneous Items
A selection of unique Welsh items
Mini Tea Set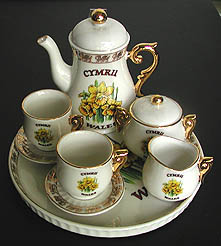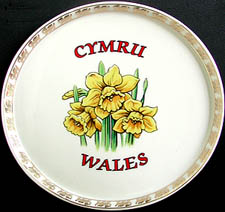 WG3A. The mini tea set at far left includes: pot with lid, creamer, lidded sugar, two cups with saucers, plus the round tray shown at immediate left. All pieces have the same daffodils motif, with "Cymru" and "Wales." The tray is 5 1/2" in diameter; the pot is 3 3/4" high. The pieces are all packed in black satin in a nice red box. $29
Dragon Placemat and Coaster Set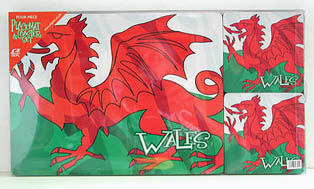 WG4. This is a set of four placemats and 8 matching coasters. The placemats are 11 1/2 x 8 3/4"; the coasters are 4 1/4" square. Smooth finish. Set $13

Welsh Harp Mug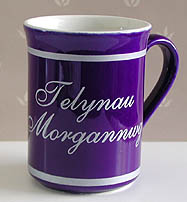 WG7. This mug was produced as a special item for a harp school in Wales. "Telynau Morgannwg" is the name of the school; there is an outline of a pedal harp on the other side. The color is actually cobalt blue, although the camera makes it look purple. On the bottom it reads: The Welsh Beaker Company. Made in Wales." We also have one black mug like this. $12
Handcarved Wooden Plaque of Welsh and Celtic Mythology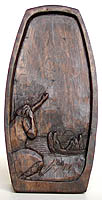 WG8. King Arthur. The mortally wounded Arthur is taken by the ladies to the Isle of Avalon to be cured of his wounds and await his country's call. About 5 3/4" high x 2 3/4" wide. Some are dark wood and some are lighter.$20
Welsh-Language Eisteddfod Board Game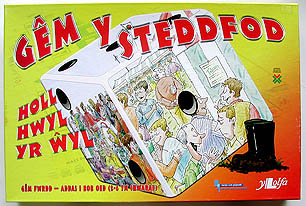 WG9. This is a Welsh-language board game based on the National Eisteddfod of Wales. The instructions are all in Welsh -- we don't yet have an English translation, unfortunately. Recommended for advanced Welsh learners and Welsh speakers. $24
Other Areas of This Web Site
Harps Bagpipes Irish Musical Instruments Celtic Jewelry Irish Crafts Scottish Crafts Books

You are on the Welsh Gifts page of the web site www.harpanddragon.com
There are over a hundred pages on this web site; click on the Home Page link
at left to see an outline of this entire site.
Notice:
The Harp and Dragon business is for sale.
We invite inquiries about buying up our inventory.
Please click here to inquire.
We will remain in business for the foreseeable future until we announce otherwise.
If you do not receive a reply from us within a day or so after sending in an order, or after emailing a question, please contact us again, as our reply may have been thrown in your spam bin or may have returned to us. Exceptions: weekends or when we note on our front page that we are closed for any reason.