Welsh Miners' Lamps
These lamps were used in the Welsh mines for many years, and many a descendant of a Welsh miner owns the lamp that belonged to an ancestor.
The Original Thomas & Williams Welsh Miners' Lamp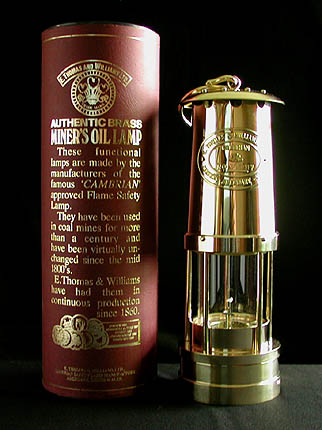 ML1. The miners' lamp was invented in Wales as a safe source of light in the mines. (The danger was that an open flame would ignite dangerous gases and cause an explosion.) There are many cheaper versions of the Welsh miners' lamp, but this one is the original Thomas & Williams, each with its own serial number. Made of solid brass with a glass window, it weighs about 3 lb. About 10" tall, not including hanging hook. It burns kerosene, called paraffin in Britain (not to be confused with the American paraffin wax used in preserving jam). Comes in a really classy gold-embossed cylindrical box. $175. We are out of stock currently on this lamp, but plan to reorder.
The British Coal Mining Company Lamp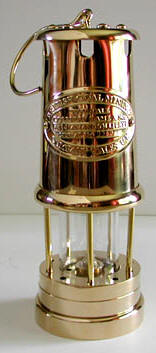 ML2. Brass miner's lamp. 8 1/2" high, not including the hanger. Made in Wales by the "British Coal Mining Company Wales U.K.," and carries a serial number. $95
Other Areas of This Web Site
Harps Bagpipes Irish Musical Instruments Celtic Jewelry Irish Crafts Scottish Crafts Books

You are on the Miners' Lamp page of the web site www.harpanddragon.com
There are over a hundred pages on this web site; click on the Home Page link
at left to see an outline of this entire site.
If you do not receive a reply from us within a day or so after sending in an order, or after emailing a question, please contact us again, as our reply may have been thrown in your spam bin or may have returned to us. Exceptions: weekends or when we note on our front page that we are closed for any reason.