Welsh Children's Things
Welsh toys
Traditional Welsh Dolls are on a separate page.
Welsh Hand Puppet

TY3. Welsh girl hand puppet, hand made by Toni Hall. The puppet body is made of felt, and it is dressed with other fabrics. Because these are hand made, the color can vary somewhat. About 10" tall. $8 each. We have one of these left, with a dark red-maroon dress.
Sale! Welsh Toy Van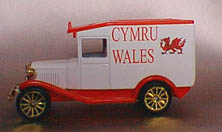 TY4. Toy Model A Ford Van. This vehicle was the most common truck on the Welsh roads in 1930, according to the maker. Die-cast metal body with plastic roof and undercarriage, wheels turn. 3" long. Comes in a clear plastic package. Made in Wales. Was $8, selling off at $6.
Welsh Picture Frame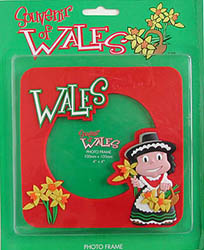 Sale! TY8. "Wales" frame has a charming Welsh girl with daffodils to enhance your photo or memento of Wales. Overall size of frame: 5 1/2 inches square. The picture opening is 3 1/2 inches high. Plastic. Packaged as shown. Was $9, now on sale at $5.
Baby Dragon Luggage Tag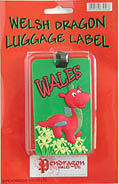 Sale! TY9. Baby dragon "Wales" luggage address tag. Nice for tagging children's luggage, backpacks, or anything else. Green plastic tag is 4 1/4" x 2 1/2", plus black fastener. Packaged as shown. Was $5, now $3
Other Areas of This Web Site
Harps Bagpipes Irish Musical Instruments Celtic Jewelry Irish Crafts Scottish Crafts Books

You are on the Children's page of the web site www.harpanddragon.com
There are over a hundred pages on this web site; click on the Home Page link
at left to see an outline of this entire site.
Notice:
The Harp and Dragon business is for sale.
We invite inquiries about buying up our inventory.
Please click here to inquire.
We will remain in business for the foreseeable future until we announce otherwise.
If you do not receive a reply from us within a day or so after sending in an order, or after emailing a question, please contact us again, as our reply may have been thrown in your spam bin or may have returned to us. Exceptions: weekends or when we note on our front page that we are closed for any reason.