Welsh Party Page
Dinner parties, card parties, any kind of party.
For Welsh fun. Here's what you need!
Welsh flag coasters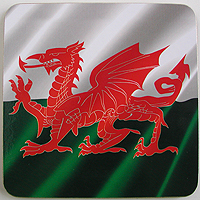 WP6. Set of four Welsh flag coasters. Each one is 4" in diameter (shown larger in proportion than the WP6 coasters above). $5/set of 4.
Sale! Dragon Cowboy Hat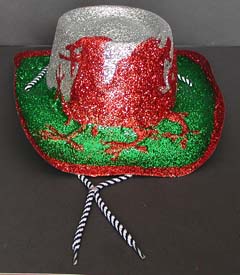 WP1. Glitter cowboy hat has a cord that ties under your chin. Made of plastic covered all over in glitter. One size, normal adult. You can really cut a noticeable figure at the next Welsh event when you wear this! Was $8, now $4
Sale! Tall Dragon Hat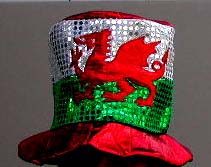 WP2. This tall glitter hat has a dragon on both the front and back. We call it our "answering hat." Made of light-weight materials. 7" high overall. One size, fits adults. Was $9, now $5.
Sale! Welsh Colors Feather Boa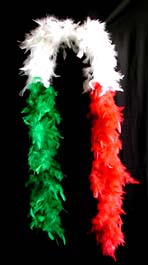 WP3. Feather boa, 6 feet long, in the Welsh colors of course. Great fun for parties! Can also be used as a party decoration. Was $8, now $5.
Sale! Dragon Sunglasses

WP4. These are definitely the coolest sunglasses in town. When people look at you, they see a red dragon on a green-and-white background. When you wear them, you don't see the design, only a bit of speckle that doesn't get in the way of your vision. One size. Were $9, now $5.
Flag String
Decorate your party with this string of triangular Welsh flags. See them on this page.
Other Areas of This Web Site
Harps Bagpipes Irish Musical Instruments Celtic Jewelry Irish Crafts Scottish Crafts Books

You are on the Welsh Party Page of the web site www.harpanddragon.com
There are over a hundred pages on this web site; click on the Home Page link
at left to see an outline of this entire site.
Notice:
The Harp and Dragon business is for sale.
We invite inquiries about buying up our inventory.
Please click here to inquire.
We will remain in business for the foreseeable future until we announce otherwise.
If you do not receive a reply from us within a day or so after sending in an order, or after emailing a question, please contact us again, as our reply may have been thrown in your spam bin or may have returned to us. Exceptions: weekends or when we note on our front page that we are closed for any reason.